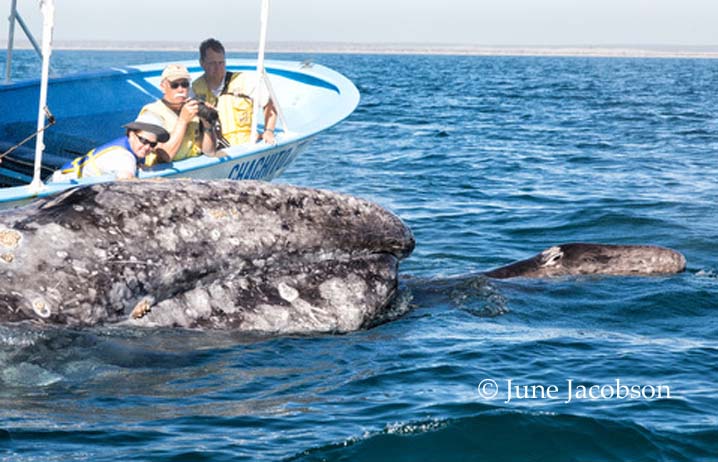 Activities: Whale watching, sea kayaking in mangrove estuaries, bird watching, remote coast exploration. Great for families!
Duration: 4 days, 3 nights OR 5 days, 4 nights
Begins and Ends in La Paz
Number of guides/crew: 2-6
Single accommodation fee: Large walk-in tent $125 (limited to two per trip)
Approximate kayaking distances per day: 2 miles
You May Also Like:
Activities: Sea kayaking, snorkeling (including with the friendly sea lions), whale watching, hiking and fishing Duration: 11 days, 10 nights:
Activities: Kayaking, snorkeling (including friendly sea lions), hiking, fishing, visiting local fishing villages, whale watching (spring trips only). Duration: 9
Magdalena Bay is a special reserve for the protection of the Pacific Gray Whale. The whales migrate here, from their feeding grounds north of Alaska to court, breed, give birth and simply frolic in the warm, calm waters of Baja's Pacific lagoons.
From La Paz we head across the peninsula to the Pacific Coast of Baja to Magdalena Bay. Here we will settle into our luxury bay-side beach camp, complete with walk-in tents, cots, pads and pillows for some "glamping". Our spectacular camp setting with a bay side view is ideal for watching whales as they frolic in the bay. For close encounters of this magnificent mammal we have the opportunity to board motorized boats twice daily and take a short ride into the bay where whales abound. These boats are skillfully and sensitively operated by local boatmen who have many years of experience working with our guests.
Other activities from camp include watching whales right from shore, exploring the spectacular remote coastline of this barrier island with its pounding surf or guided sea kayaking excursions into the extensive mangrove estuaries teaming with bird life. In the evening our naturalist guides present slide shows on the local flora and fauna with a special focus on gray whale natural history and behavior.
While there is no snorkeling in Magdalena Bay it is possible to combine any gray whale watching trip with an Espiritu Santo Island sea kayaking and snorkeling trip (from 1 to 4 days) and stay at our hotel in La Paz between trips. Throw in a morning of snorkeling with whale sharks and this combination of trips and locations creates the ultimate wildlife rich expedition visiting both coasts of Baja!
Our Quick Getaway trips are economically budgeted without hotel accommodations. We provide transportation from La Paz to Magdalena Bay as part of this trip BUT if you already have plans or prefer to stay in Loreto we can help you arrange transportation from there as well. Meanwhile if you would like to stay in La Paz before or after your trip, at our own beautiful hotel the Posada LunaSol, we would be happy to arrange these accommodations for you.
Day 1
Early morning breakfast at our hotel (Posada LunaSol) cafe if you are staying with us. Meet at our reception/office area for an 8am departure by van (4 hours) to Lopez Mateos on the shores of Magdalena Bay. Lunch at the embarcadero in Lopez Mateos upon arrival. Board the whale watching boats after lunch for transport to our whale watching camp. We will do some whale watching en-route to camp and arrive there sometime late afternoon to settle into our beautiful bay-side accommodations. Happy hour, dinner and evening naturalist presentation.
B/L/D
Day 2-3
Whale watching excursions, bird watching and/or kayaking in mangrove estuaries, exploring this remote coastline and evening naturalist presentations or star talk.
B/L/D
Day 4
Enjoy early morning coffee and continental breakfast and prepare your gear to leave camp. Around 10 a hearty brunch will be served prior to leaving camp at 10:30 for whale watching. This approximately 2 hour whale watch session will return you to Lopez Mateos where you'll board the vans for the return ride back to La Paz. Arrive and check into our hotel at about 5-5:30pm, enjoy dinner at one of the many fine establishments of your choice in La Paz.
B,brunch,snacks
---
B/L/D indicates meals included with trip cost.
**The 4 night itinerary is the same, but with an additional night at camp**
Although we do our best to adhere to the above itinerary, it is subject to change for reasons beyond our control including weather.
Tour Calendar for Magdalena Bay Quick Getaway (3 or 4 nights)
Tour Dates
Description
Rate
Feb 1 - Feb 4, 2024
3 nights


NEW DATE - DISCOUNTED RATE



$765
Feb 4 - Feb 7, 2024
3 nights


NEW DATE!



$950
Feb 7 - Feb 10, 2024
3 nights

$950
Feb 13 - Feb 17, 2024
4 nights

$1150
Feb 20 - Feb 23, 2024
3 nights


THIS TOUR IS FULL.

FULL
Feb 26 - Mar 1, 2024
4 nights


(Private Charter)




THIS TOUR IS FULL.

FULL
What's Included
All meals from breakfast day 1 (if staying at our hotel) through lunch the last day of the trip, purified drinking water and an evening cocktail at camp, community camp equipment including kayaks and associated equipment, walk-in canvas tents with 2 cots, pads and pillows. Transportation to camps, national park fees and motorized skiffs, captains, guides and crew/cooks.
What's Not Included
Airfare, airport-hotel transfers, hotel accommodations, beer or soft drinks (there will be an option to purchase these and we provide coolers with ice for storing them at camp), sleeping bags (available for rent in La Paz) and guide gratuities. NOTE: there is no snorkeling at whale camp so no need for snorkel gear or wetsuits.