Our quick getaways are 2-3 night tours (not including your travel days to and from Baja) to base camps on Espiritu Santo Island or Magdalena Bay. Quick Getaways do not include hotel transfers or accommodations before or after your trip or any meals in town. They are skiff-supported, budget minded sea kayaking and whale watching base camp trips ideal for families with small children and/or folks limited on time and/or first time campers or paddlers seeking a shorter trip. They are also convenient for folks wanting to combine a sea kayaking or whale watching trip with visiting other areas of Baja with in one week.
Quick Getaways are skiff-supported and accompanied by 25-30 foot motorized boats adding comfort, safety and luxury to your adventure. As well the skiffs are useful as support vehicles for tired paddlers, whale watching outings and transportation to snorkeling hot spots otherwise not accessible by kayaks.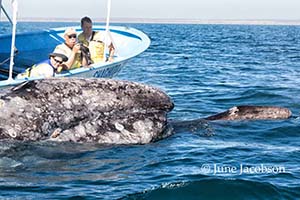 Activities: Whale watching, sea kayaking in mangrove estuaries, bird watching, remote coast exploration.
Per Person Double Occupancy