Mar Y Aventuras is Spanish for Sea and Adventures. We are an outdoor adventure company specializing in sea kayaking and whale watching expeditions from La Paz and Loreto, Baja California Sur. Sea & Adventures, Inc. and Mar Y Aventuras, S.A. de C.V. are sister companies operating jointly to provide our guests with the best service possible.
Ricardo Amador and Mary Harter established Sea & Adventures and Mar Y Aventuras in 1993 after many years of guiding adventures throughout Baja. Their passion is to educate and introduce folks to the beauty and magic of the Baja landscape, wildlife and people with a strong focus on the preservation of this unique and special place they call home. As a team with combined guiding experience of more than 40 years, they learned how to provide their guests with the ultimate Baja experience. They've accomplished this by using knowledgeable and professional local guides to provide great service with a uniquely passionate insight into Baja's unique cultural and natural history.
Montana Staff – Sea & Adventures Inc.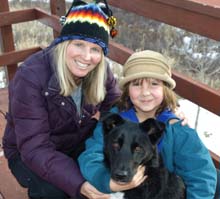 Owner, operator of Sea & Adventures and wildlife biologist
Mary came to Baja in 1983 working as a naturalist on gray whale watching trips in Magdalena Bay. She then guided scuba diving, sea kayaking and whale watching trips in Baja for many years to follow. She holds a BS in wildlife biology and possesses a deep knowledge and strong passion for Baja's abundant wildlife. In 2002 she became the mother of Marysol and now juggles motherhood and marketing trips to this special place she became so enchanted with in 1983.
Our Montana based Sea & Adventures office provides pre-trip information with a toll free number in the USA to answer all your questions and prepare you for your Baja adventure. Once in Baja our Mexican based office in La Paz provides all the logistical support to take you on your sea kayaking or whale watching adventure of a lifetime.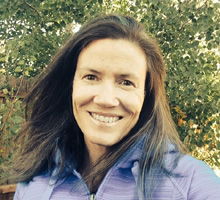 Heather is available by phone or email at her home office in Bozeman, Montana to answer pre-trip questions and help with your travel planning to Baja. A lover of wild places, Heather holds a special place in her heart for Baja where she and her family have traveled for many years. Having studied aquatic biology and environmental studies at UC Santa Barbara and guided river trips in Utah for 6 years, her love of the outdoors is a perfect fit for Sea & Adventures. Her passions include traveling, stand-up paddle boarding, river trips, hiking with her dogs and building furniture. Heather is excited to be part of a team that combines her love of the ocean and marine life with adventure travel in Baja!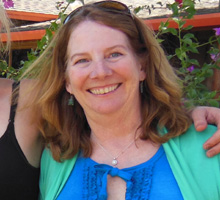 Linn has worked in the office of Sea & Adventures since the company first started in 1993. Currently, she does the bookkeeping, maintains the web site and helps out in the US booking office when needed. Her passions include hiking, skiing, tennis, filmmaking and visiting Baja. With the help of guides from Mar Y Aventuras, she produced, directed and edited a documentary about the beautiful and unique fishing village of El Pardito Island. She feels fortunate to have met the fishing families from El Pardito by doing our Island Hopping and Baja Coast trips that travel between La Paz and Loreto. For more information about her film or to order a DVD visit,www.hereliesmyheart.org.
La Paz Staff – Mar Y Aventuras – Head Guides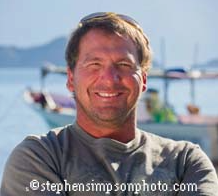 Carlos is one of the most charismatic, professional and knowledgeable guides you'll ever meet. A La Paz native who grew up fishing with his grandfather on the Sea of Cortez, Carlos began guiding sea kayak trips in Baja in 1998. An avid surfer Carlos was a natural in a kayak and became an ACA certified sea kayak instructor and wilderness first responder soon after assisting on kayak trips. At one time a student of international law at the University of Baja California Sur in La Paz, Carlos realized he just couldn't imagine a life behind a desk. He left his studies and it's obvious he's in his element now when guiding a trip on the water. A talented photographer, Carlos's joyful charisma and enthusiasm for adventure travel in his favorite playground of Baja are a joy to experience on any trip!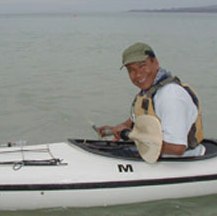 A La Paz native, Miguel began working sea kayaking trips in the mid 1980's. He worked as a crew member driving skiffs, cooking and running sea kayak camps in the Sea of Cortez for over 10 years until he changed jobs and began working for an airline. Here he learned English then returned to working kayak trips, this time as a head guide. Since his return to kayaking trips he has completed an ACA coastal sea kayaking course and was certified as a wilderness first responder. He is our first crew member ever to become a head guide. His love and passion for what he calls his "home" of Espiritu Santo Island is infectious. Any trip shared with Miguel will leave you with a deep knowledge of the plants, animals and people that inhabited or currently inhabit this uniquely special place.
Marco Aurelio Martinez de Escobar Martinez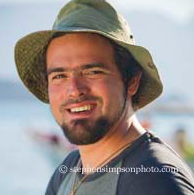 Marco was born and raised in La Paz. Growing up on the shores of the Sea of Cortez and visiting the nearby islands. Since he was a young boy Marco developed a deep love and appreciation for the natural areas surrounding his home. In 2002 Marco began studying marine biology at the University in La Paz then changed to Alternative Tourism in 2006 because he had a strong desire to adapt his love of the outdoors into sustainable tourist development by combining culture, nature and conservation. Marco has completed several NOLS leadership courses and works part time for NOLS. He is a wilderness first responder and has a degree in Alternative Tourism. He came to work with Mar Y Aventuras in 2008 and loves to share the passion he has for his "backyard" (especially the night sky) with people from different cultures. Marco's sense of humor and love for Baja will surely enhance your experience with us.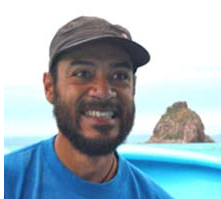 Born and raised in Mexico City, Hugo found the need to escape the dense population and pollution of this city. While studying architecture there he began exploring the more rural areas of his country and developed a deep love for mountaineering and rock climbing. This love of the outdoors brought him to the University of La Paz to study alternative tourism. From guiding sea kayak trips in Baja and taking a Mexican outdoor educator course with NOLS Hugo has become specialized in outdoor education and adventure activities. He has a passion for small-scale local community development having worked for many non-profits. He spends the off season farming and bee keeping with dreams of building an eco lodge and school to educate the children of his country about mountaineering and a sustainable life style. Hugo's calm demeanor and joyful nature will enhance any trip he leads.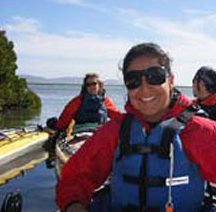 Alba is a native of La Paz with a strong passion for the beautiful outdoors that surround her hometown. Growing up in La Paz offered her numerous opportunities to hike, mountain bike, snorkel and sea kayak. Her passion for the outdoors led her to study alternative tourism which earned her a degree in tourist development from the University in La Paz in 2003. Since then she has completed two NOLS sea kayaking courses and become certified as a trainee coach. Alba loves to travel and spent time traveling around Asia and summers in Canada where she learned to improve her grasp of the English language. A certified WFR, Alba's skills, talents and knowledge of her "backyard" combined with her friendly, enthusiastic personality make her a pleasant asset to any trip.
While growing up in Mexico City with a British father and Mexican mother Fernando dreamed of a life working in the wilderness. He spent many vacations snorkeling and white water kayaking then moved to La Paz to study marine biology. His passion for the ocean was fueled while working as an ecology research diver throughout the Sea of Cortez, Caribbean and several Pacific Islands. Luis has worked as a NOLS instructor and guided kayaking trips in Baja since 2012. His love of Mexico and particularly Baja are conveyed through his perfect English while interpreting the prolific natural resources we experience in Baja on our trips. Get ready to learn something about the marine environment, stars or British rock and roll on any trip being led by Fernando.
Jesus "Chuy" Alvarez Encinas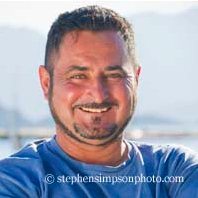 Born in the small fishing village of Los Burros along the Baja Coast between Loreto and La Paz, Chuy knows the Sea of Cortez like the back of his hand. With Mar Y Aventuras since our beginning in 1993 he has done it all from cook to panga driver to captain of fishing trips. A father of 2, Chuy's great sense of humor and ability to run a first class camp makes him a great asset to the Mar Y Aventuras team.
Alberto "Jarocho" Tejeda Lile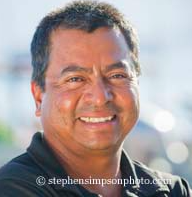 Jarocho is originally from the state of Vera Cruz, Mexico and is now one of our top chefs. He made his way to La Paz working on yachts as a chef and began working for us in 1996. He has brought some mouth watering recipes to our tables, the most note worthy being his fresh fish Vera Cruz style from his home state.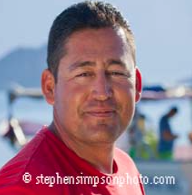 Born and raised in Nopolo, on the roadless coast of Baja between Loreto and La Paz, Martin began working with Mar Y Aventuras in 1998 at just 18 years old. A bright young man he learned quickly the secrets of great tasting outdoor cooking and is now one of our head chefs.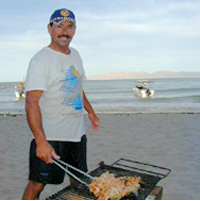 Angel is a premier fisherman, born a few feet from the shores of the Sea of Cortez in the small fishing village of Nopolo opposite San Jose Island. From a family of 16 he began fishing as soon as he was big enough to accompany his father in the panga. Now a father of 4, Angel can handle a skiff and find the best fishing spots like no other.
Luis Ángel Moreno Márquez
Angel grew up on a ranch in the center of Baja between La Paz and the Pacific Coast. He later moved to San Carlos and learned to be a fisherman on the shores of Magdalena Bay. We found him here and hired him to start working at our whale camp. With such a pleasant demeanor and hard working ethic Angel has moved up the ranks to captain on our expeditions. He and his family have since moved to La Paz now working with us full time. His wife Joanna works as a cook in our hotel cafe kitchen and between expeditions you can find Angel helping out around the hotel and warehouse.
Jose Luis was born in Mazatlán to a family of fisherman. He grew up fishing and learned to drive a boat at an early age. Years ago he moved to La Paz where he began working in tourism as a captain for scuba diving trips. He learned a great deal about the Sea of Cortez during this time. In 2011 Jose Luis joined the Mar Y Aventuras team. His friendly nature and knowledge of boats and the ocean as well as his ability to fix just about anything with nothing make him a great asset to any trip.
Office/Warehouse/Hotel – Mar Y Aventuras and Posada LunaSol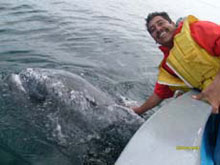 Ricardo has been fishing and boating on Baja waters since the age of 8. He began working expeditions in Baja in 1979 and has been guiding sea kayaking, bicycling and whale watching trips since 1986. Ricardo is the master of trip logistics and the one behind the scenes who makes sure everything is running smoothly. He speaks excellent English; having worked river rafting trips in Idaho and Costa Rica during the late 80s early 90s. He's often seen busily moving around the office and warehouse, assuring that the food, guides, crew and equipment are all going to the right places at the right times.
Ismael Alfonso Monteverde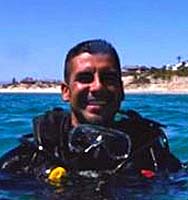 A La Paz local, Ismael or "Ish", grew up enjoying the beautiful Baja elements of wind and water. He claims these elements are his passion. At an early age he realized he enjoyed interacting with tourists because they possessed the same passions for Baja's natural areas and sports such as windsurfing and scuba diving as himself. Ismael obtained a degree in alternative tourism from the University of La Paz in 2010. He has worked in and around La Paz in tourism as a scuba dive master and wind surf instructor. Ish brings a special passion for the unique natural beauty of wind and water to the Mar Y Aventuras team. He can't wait to share it with you!
Patricia Ivonne Zapata Galindo
Born in Mexico City, raised in Jalisco and having studied at the University in La Paz, Patricia joins the Posada LunaSol and Mar Y Aventuras team with a great deal of knowledge and expertise. After living and studying at the University in La Paz for 20 years she moved to Loreto and took her first job in hotel reception. She immediately enjoyed working with tourists, going the extra mile to help them create a wonderful vacation came easy to her. She enjoyed 8 years of working in the hotel business in Loreto before returning to La Paz. She's spent the last couple years studying subjects she's passionate about like psychology and alternative medicine while keeping fit and practicing yoga. We welcome Patricia with her organized and helpful manner as our evening receptionist at our hotel, Posada LunaSol and Mar Y Aventuras.
Maribel Burgoin Olachea & Miguel Martin Abaroa Hirales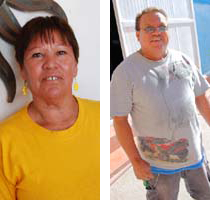 Miguel "Mikey" and Maribel are an integral part of our permanent hotel and warehouse staff. Mikey has been with Mar Y Aventuras since our first year in business in 1993. Maribel started with us in 2000 cleaning the office then once we opened our hotel, the Posada LunaSol, in 2001 she became our head housekeeper. Mikey is a certified and licensed chauffeur and jack of all trades from fixing leaky faucets to loading kayaks and driving clients to various destinations. Maribel is often heard singing as she maintains and takes pride in a squeaky clean Posada LunaSol.
Angel Benjamin Mariscal Contreras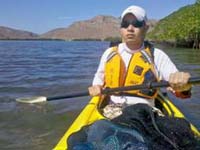 Since 2010 Benjamin has worked for Mar Y Aventuras, guiding day trips and as the weekend receptionist for Posada LunaSol. He studied eco-tourism and holds a degree in alternative tourism from the local university. He speaks English well and has a keen interest in nature and physical outdoor activities such as kayaking, hiking, swimming and mountain biking. Benjamin, has a great deal to offer our clients as a local outdoor enthusiast with an easy going manner and extensive knowledge of La Paz and its surrounding natural areas.