Whale Watching
Experience the gray whale up close while settling into the luxury accommodations of our beautiful bay-side beach camp nestled in the dunes. We provide the ultimate in glamping on the shores of Magdalena Bay during prime gray whale season from late January through mid-March. Our camp is comprised of ten large 10'x12′ walk-in canvas tents complete with sleeping cots, pads and pillows plus a large MASH dining tent with tables and chairs.
Activities include whale watching from motorized skiffs (operated by skilled local captains who are passionate about the gray whale), sea kayaking in mangrove estuaries teaming with bird life and exploring the wild dunes and Pacific Coast of this remote barrier island. Camp overlooks the tranquil waters of Magdalena Bay where you can watch whales frolic just off shore right from your tent!
Activities: Sea kayaking, snorkeling (including with the friendly sea lions), whale watching, hiking and fishing Duration: 11 days, 10 nights: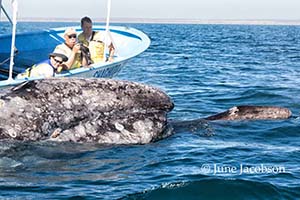 Special Offer Select Dates!
Activities: Whale watching, sea kayaking in mangrove estuaries, bird watching, remote coast exploration. Great for families! Duration: 4 days, 3