Easy – Moderate
Physicality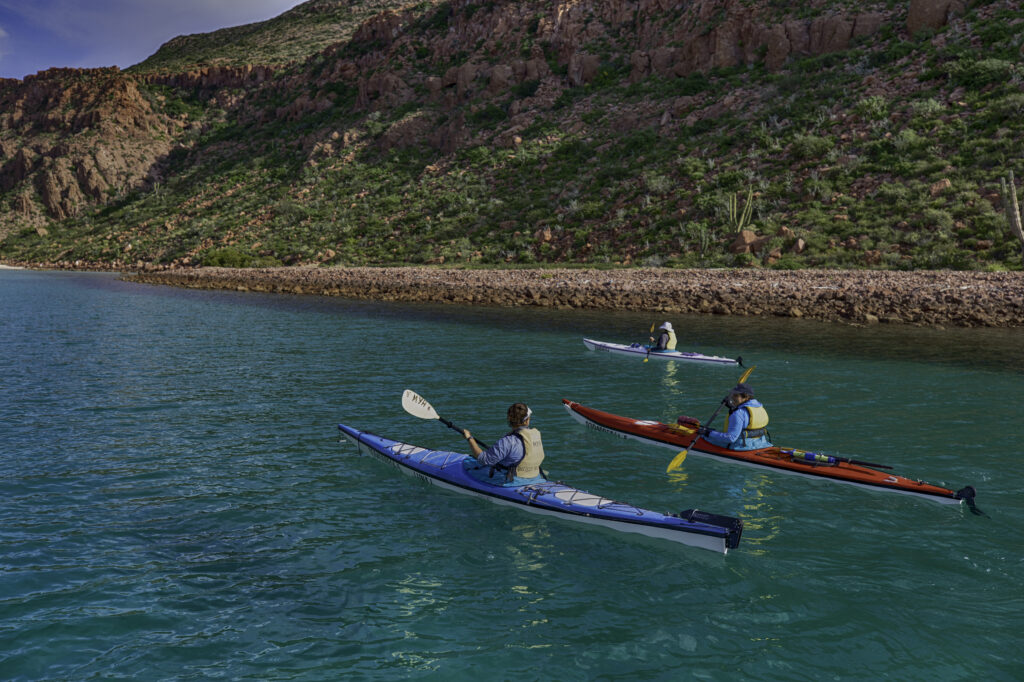 Activities: Sea kayaking, snorkeling (including with the friendly sea lions), whale watching, hiking and fishing
Duration: 11 days, 10 nights: 7 nights camping, 3 nights hotel (first, middle, last)
Begins in La Paz and ends in La Paz
Number of guides/crew: 2-6
Group Size: Minimum 6, Maximum 16
Minimum age: 5 – This is a generalization of age appropriateness for this trip, but please note we make exceptions depending upon your child's personal experience.
Single accommodation fee: $250 single hotel and walk-in tent – Limit 2 per trip.* Shared hotel and single walk-in tent $125 / single hotel and shared walk-in tent $150
Sea kayak rating: Easy to Moderate
Approximate min/max paddling distances per day: 1-8 miles
You May Also Like:
Activities: Whale watching, sea kayaking in mangrove estuaries, bird watching, remote coast exploration. Great for families! Duration: 4 days, 3
On this "best of" journey we'll bring you to both spectacular coasts of Baja including the beautiful Espiritu Santo Island in the Sea of Cortez and remote, wild shores of Magdalena Bay on the Pacific Coast.
While camping in luxury on a white sand beach at our camp on Espiritu Santo Island, you'll have the opportunity to snorkel with sea lions and tropical fish and sea kayak below the island's stunning volcanic cliffs. As a bonus on late February and early March trips it's quite possible to enjoy humpback whale sightings as they frequent the waters surrounding Espiritu Santo Island.
In Magdalena Bay you'll observe gray whales up close from locally operated skiffs as they frolic in the bay or from right in front of our luxury base camp over looking the bay. Other opportunities for exploring this unique area include paddling through mangrove estuaries among the rich bird life and beach combing along the coastline of this remote Pacific Barrier Island.
We've put this trip together especially for the active, outdoor naturalist type who likes to paddle and snorkel but also would enjoy doing some whale watching all within one trip. This will truly be a one of a kind comprehensive Baja journey!
Day 1
Arrive La Paz, overnight Hotel Posada LunaSol. Enjoy exploring this lovely seaside city. Our hotel reception can recommend things to do and places to eat.
Day 2
After breakfast at our poolside cafe, depart via motorized skiff to Espiritu Santo Island (ESI). Arrive for lunch at our beautiful beach base camp. Kayak and camp orientation and afternoon paddle. Overnight ESI camp.
B/L/D
Days 3-5
Enjoy activities at our ESI camp including paddling below volcanic cliffs, snorkeling with friendly sea lions and among tropical fish, hiking through canyons below towering cactus and possibly trying your hand at fishing. All this while enjoying evening cocktails and delicious meals prepared with fresh ingredients by our crew.
B/L/D
Day 6
Morning nature walk or short paddle then depart ESI after an early lunch for boat ride back to La Paz. Arrive La Paz mid-day and check into our hotel. Enjoy a nap and/or stroll along the Malecon of this lovely seaside town and some excellent dining for lunch and dinner at restaurants of your choice (we can provide suggestions). Overnight hotel in La Paz.
B/L
Day 7
Breakfast at our hotel then board the vans to depart for Lopez Mateos on the Pacific Coast of Baja (4 hours including 2 stops). Upon arrival at the lovely embarcadero enjoy a delicious lunch of fish and shrimp tacos seaside before boarding the boats to head into Magdalena Bay. En-route to camp you'll have your first encounters with the magnificent gray whales of Mag Bay. We will whale watch for around 2 hours and arrive at our luxury whale camp on the shores of Magdalena Bay late afternoon to settle in and enjoy happy hour and scrumptious dinner. Overnight whale camp.
B/L/D
Days 8-9
Enjoy activities from our luxury whale camp including whale watching from motorized skiffs offered both morning and afternoon, sea kayaking, fishing or bird watching in the nearby mangroves or beach combing along the coastline of this remote island.
B/L/D
Day 10
Enjoy early morning coffee and continental breakfast and prepare your gear to leave camp. Around 10 a hearty brunch will be served prior to leaving camp at 10:30 for whale watching. This approximately 2 hour whale watch session will return you to Lopez Mateos where you'll board the vans for the return ride back to La Paz. Arrive and check into our hotel at about 5-5:30pm, enjoy dinner at one of the many fine establishments of your choice in La Paz.
B,brunch,snacks
---
B/L/D indicates meals included with trip cost.
PLEASE NOTE: This trip itinerary varies depending on the trip date your choose. While all the activities, times and schedules remain the same the order of which camp you will attend first and second may vary. Some dates visit our ESI camp first and end with our whale camp while others start at our whale camp and end at our ESI camp. If you wish to know the order of which camp you'll attend first and second contact our office.
Although we do our best to adhere to the above itinerary, it is subject to change for reasons beyond our control including wildlife unpredictability, weather and port closures. On the chance the port is closed and we can not get a group to the island on departure day we will provide a land based activity for this day.
Tour Calendar for Best of Baja (11 days)
Tour Dates
Description
Rate
Jan 22 - Feb 2, 2024
11 nights


(one extra night at Magdalena Bay for the same price!)



$1895
Jan 31 - Feb 10, 2024
10 nights

$1895
Feb 4 - Feb 14, 2024
10 nights

$1895
Feb 11 - Feb 21, 2024
10 nights


THIS TOUR IS FULL.

FULL
Feb 24 - Mar 5, 2024
10 nights


THIS TOUR IS FULL.

FULL
What's Included
Three nights hotel stays and 7 nights at two camp accommodations complete with large tents, cots, pads and pillows based on double occupancy. All meals as noted on the itinerary, purified drinking water with powder drink mixes and an evening cocktail at camps. Transportation to the camps and national park fees. Community camp equipment including kayaks and associated equipment, tents, motorized skiffs, captains, guides and crew/cooks.
What's Not Included
Airfare, airport transfers, meals on travel days to and from Baja or in town, beer, wine or soft drinks (there will be an option to purchase these and we will provide coolers with ice for storing them at camp), personal gear such as sleeping bags, snorkel gear, wet suits (available for rent in Baja) and guide gratuities.