Specials and Discounts!
Special Offers:
Receive 3 free hotel nights at Posada LunaSol when booking any two different Quick Getaways (selected trip dates with this special offer) in February and March of 2017, PLUS get 10% off the second Quick Getaway trip date booked.
BOOK BY MARCH 1st and receive a 15% discount on the following trip dates in April and May, the ideal time to enjoy the beauty and wildlife of the Sea of Cortez!
Baja Coast & Islands – Loreto to La Paz
April 8-16, April 22-30 and May 6-14
Island Hopping – La Paz to Loreto
April 29-May 7
Group Discounts:
We offer group discounts of 5% with a group of 5 or more adults and 10% with a group of 10 or more adults when booking onto a regularly scheduled departure.
Repeat Clients:
We offer a 10% discount for our special repeat clientele.
Childrens' Discounts:
Children 3 and under are free on our Quick Getaways and we offer a 20% discount for children 4-10 and a 10% discount for children 11-17 on all trips.
When more than one discount applies we use the larger discount for determining your rate.
New Trips!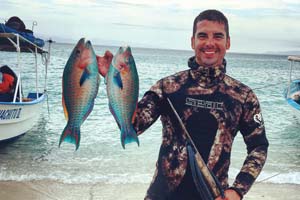 Activities: 2 days of intensive fishing, 3 hotel nights, 3 evenings in La Paz to take in the local culture