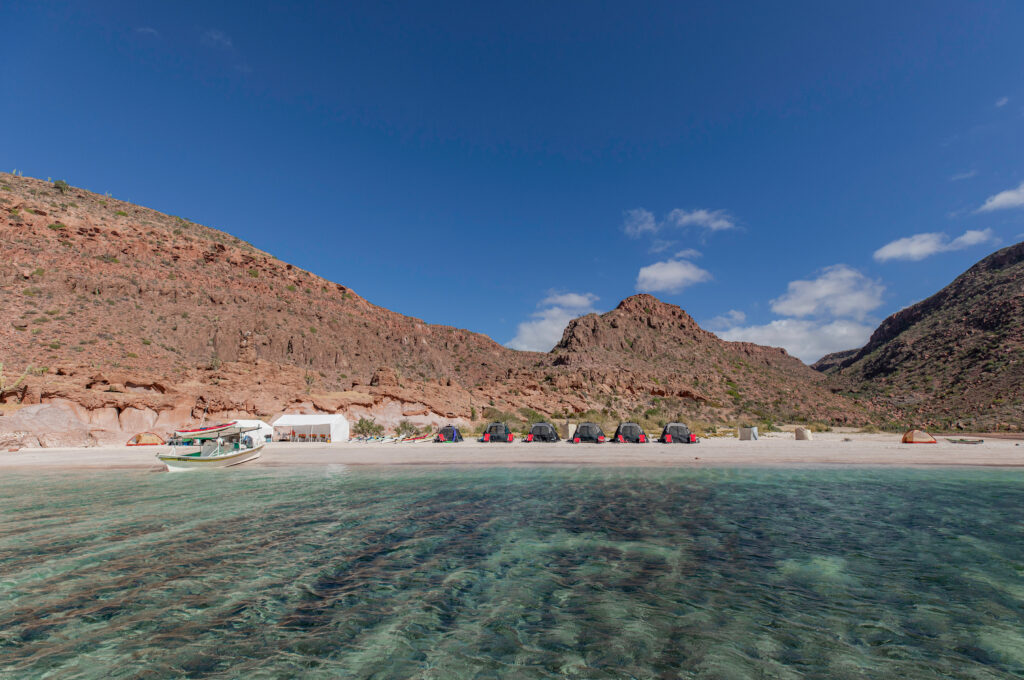 Activities: Sea kayaking, snorkeling (including with the friendly sea lions), hiking and fishing
Duration: 7 days, 6 nights: 4 nights camping, 2 nights hotel
Begins in La Paz and ends in La Paz
Number of guides/crew: 2-6
Group Size: Minimum 6, Maximum 16
Minimum age: 5 – This is a generalization of age appropriateness for this trip, but please note we make exceptions depending upon your child's personal experience.
Single accommodation fee: $250 single hotel and walk-in tent – Limit 2 per trip.* Shared hotel and single walk-in tent $125 / single hotel and shared walk-in tent $150
Sea kayak rating: Easy to Moderate
Approximate min/max paddling distances per day: 1-8 miles
You May Also Like:
Activities: Sea kayaking, snorkeling (including with the friendly sea lions), whale watching, hiking and fishing Duration: 11 days, 10 nights:
Activities: Sea kayaking, snorkeling (including with friendly sea lions), nature walks, fishing and turtle release (on late October &
We've taken some of our clients' favorite activities and combined them into one GREAT trip! Snorkel with friendly sea lions and among tropical fish, kayak the turquoise waters of the Sea of Cortez, walk among giant cactus or try your hand at fishing.
Upon arrival to the famous Espiritu Santo Island (ESI) National Park you'll settle into our beautiful camp on a white sand beach caressed by turquoise waters with volcanic cliffs and towering cactus as back drop. Camp is comprised of walk-in tents, each complete with 2 cots, pads and pillows for a restful nights sleep.
Without having to move camp daily* our flexible itinerary facilitates a variety of activities for a variety of interests. Our professional guides will provide sea kayaking excursions tailored to abilities from beginner to advanced paddlers. Motorized boats/skiffs skillfully operated by our experienced captains will transport folks to and from the island and accompany the trip. As we kayak or travel by boat along the shores of ESI it's common to see manta rays and dolphins leaping from the sea's surface.
Having skiffs accompany your trip allows you to participate in activities not possible if traveling by kayak alone. We can motor to snorkeling "hot spots" including a sea lion rookery where we snorkel among these graceful creatures enjoying their playful and curious nature first hand. The skiffs are also available for those who prefer to ride along rather than kayak.
Don't miss this opportunity to possibly combine all these spectacular wildlife events with kayaking, snorkeling , hiking and fishing while camping in comfort at our luxury camp on the beautiful island of Espiritu Santo.
* Due to potential new National Park regulations, we may need to move camp once during this trip
Day 1
Arrive in La Paz, Baja California Sur, Mexico. Evening on your own to explore La Paz and dine at one of its many fine restaurants.
Day 2
Breakfast at our poolside cafe for a meet and greet with your guides and other fellow passengers. Pick up of rental gear, orientation and loading of boats. Transfer by boat to the island of Espiritu Santo. Lunch upon arrival at camp with camp and kayak orientation followed by paddling in the bay.
B/L/D
Day 3-5
Guided kayak, snorkel and hiking excursions are offered daily from our luxury base camp as our guides and crew choose the best activities each day in accordance with your desires, abilities and the weather. Try your hand at fishing in the mornings and enjoy our skiff excursions to nearby snorkeling "hot spots" including a sea lion rookery.
B/L/D
Day 6
Enjoy a morning activity of paddling or hiking, have an early lunch at camp then transfer back to La Paz by motorized boat arriving mid-day. Check into the hotel for a nice shower and overnight.
B/L
Day 7
Travel day for getting to the airport to return home or continuing your trip in Baja.
---
B/L/D indicates meals included with trip cost.
Although we do our best to adhere to the above itinerary, it is subject to change for reasons beyond our control including wildlife unpredictability, weather and port closures. Upon the chance the port is closed due to high winds and we can not get a group to the island on departure day we will provide a land based activity for this day.
Tour Calendar for Espiritu Santo Island (7 days)
Tour Dates
Description
Rate
Dec 18 - Dec 24, 2023
6 nights

$1200
Dec 23 - Dec 29, 2023
6 nights

$1200
Dec 28 - Jan 3, 2024
6 nights


One space available



$1200
Jan 2 - Jan 8, 2024
6 nights

$1200
Jan 7 - Jan 13, 2024
6 nights

$1200
Jan 14 - Jan 20, 2024
6 nights

$1200
Mar 2 - Mar 8, 2024
6 nights

$1350
Mar 17 - Mar 23, 2024
6 nights

$1350
Apr 7 - Apr 13, 2024
6 nights

$1350
Apr 21 - Apr 27, 2024
6 nights

$1350
What's Included
Two nights hotel accommodations and 4 nights luxury camp accommodations complete with walk-in tents, cots, pads and pillows based on double occupancy, all meals as noted on the itinerary, purified drinking water with powder drink mixes and an evening cocktail while at camp. Community camp equipment including kayaks and associated equipment, tents, motorized skiffs, captains, guides and crew/cooks.
What's Not Included
Airfare, airport transfers, meals on travel days to and from Baja, beer or soft drinks (there will be an option to purchase these and we will provide coolers with ice for storing them at camp), personal gear such as sleeping bags, snorkel gear, wet suits (available for rent in Baja) and guide gratuities.