Easy – Moderate
Physicality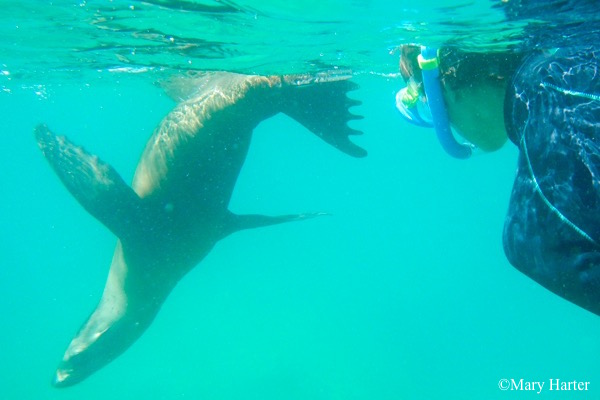 Activities: Sea kayaking, snorkeling, including friendly sea lions & whale sharks (weather and presence of sharks permitting), hiking, fishing, cooking and dance lessons.
Duration: 8 days, 7 nights: 4 nights camping, 3 nights hotel
Begins and Ends in La Paz
Number of guides/crew: 2-5
Minimum age: 16 – This is a generalization of age appropriateness for this trip, but please note we make exceptions depending upon your child's personal experience.
Single accommodation fee: $100 hotel and tent, $85 single hotel and shared tent, $25 single tent and shared hotel.
Sea Kayak Rating: Easy to Moderate
Approximate min/max paddling distance per day: 2-12 miles. Please note this is an approximation and can vary greatly dependent on the winds, time of year and group size.
You May Also Like:
Activities: Sea kayaking, snorkeling, including whale sharks (weather and presence of sharks permitting on January and March trips only, NOT
Activities: Sea kayaking, snorkeling (including with friendly sea lions), nature walks, fishing and turtle release (on late October &
Activities: Kayaking, snorkeling (including friendly sea lions), hiking, fishing, visiting local fishing villages, whale watching (spring trips only). Duration: 9
We've added some flare and fun activities to our classic sea kayaking trip on Espiritu Santo Island to create a "Latin Infused" kayak tour…..While enjoying the beauty of this island paradise with activities including kayaking, snorkeling, hiking and fishing you'll also have the opportunity to learn some Mexican cooking secrets and fun Latin dance moves! Hands on cooking classes and dance lessons will be lead by guest instructors during the week.
The trip starts off with a hosted visit to a local salsa club/bar where you can dance or just observe while enjoying a cold beer upon your arrival Saturday night. The next morning we take a short boat ride to the whale shark feeding grounds and with some luck and calm weather we'll enjoy snorkeling with these gentle giants! That afternoon enjoy visiting a local market where we'll select fresh fare to create a beautiful dinner hosted in a kitchen with a beautiful view of the marina and La Paz Bay.
The following day we embark on our journey to the National Reserve of Espiritu Santo Island. Upon arrival at the island we'll settle into our beautiful base camp set on a white sand beach complete with a fully shaded kitchen, dining area and "toys" to recreate in this spectacular setting. Guided excursions of sea kayaking, snorkeling, nature walks and fishing will be offered daily. In the evenings we'll turn the fishing expedition catches into some delicious fare for happy hour and dinner. Evenings will include learning fun new ways to spice up classic Mexican dishes or gain ideas for creating new delicious cocktails and meals with Latin flare! As well we'll encourage you to kick off your shoes and learn some salsa moves while listening to upbeat Latin music.
After 5 days on the island we return to the vibrant seaside town of La Paz for a night. Here we'll dine at a classic Mexican restaurant and head into town for some more local dancing!
Join us on this fun Latin infused journey and enjoy roasted pineapple and cilantro margaritas while watching the magical Baja sunsets and learn some fun dance moves while listening to classic Latin music at our beautiful beach camp only steps from the ocean.
Day 1
Arrive in La Paz, Baja California Sur, Mexico. Dinner on your own at one of La Paz's many fine restaurants than an optional hosted late night excursion to a local salsa club for some fun dancing or observing. Overnight at our hotel The Posada LunaSol.
Day 2
Breakfast at our poolside cafe. After breakfast we'll collect our snorkel gear and head out on a short boat ride to find the feeding whale sharks (large, toothless planktin eating sharks). Calm seas permitting we'll get to snorkel with these gentle giants and observe them in their natural habitat. Back at the hotel lunch is on your own at one of the many fun restaurants or taco stands near the hotel. This afternoon you have the option to accompany our guest chef and visit a local La Paz market to select some fresh fare for our cooking class meal tonight. This evening's dinner will celebrate local flavors from the desert and sea of Baja! Enjoy hands on cooking in a private kitchen with a beautiful view of La Paz Bay while sipping specialty margaritas.
B/D
Day 3
Breakfast at our poolside cafe where you'll meet your sea kayak guides. Pick up of rental gear, quick orientation and board the boat for transfer to the island of Espiritu Santo. Lunch upon arrival at camp with camp and kayak orientation followed by paddling in the bay.
B/L/D
Day 4-6
Guided kayak, snorkel and nature walk excursions are offered daily from our beautiful bay-side base camp as our guides and crew choose the best activities each day in accordance with your desires, abilities and the weather. Try your hand at fishing in the mornings and enjoy our skiff excursions to nearby snorkeling "hot spots" including a sea lion rookery and *whale shark feeding area where we can join these amazing marine animals in their natural environment for a snorkeling experience of a lifetime. In addition to these activities well we'll enjoy some hands on cooking and Latin dance classes on the beach while drinking specialty margaritas!
B/L/D
Day 7
Enjoy a morning activity of paddling or desert exploration, have an early lunch at camp then transfer back to La Paz by motorized boat arriving mid-day. Check into the hotel for a nice shower. This afternoon you'll have free time to enjoy strolling La Paz's famous waterfront promenade or rest in your room for a traditional siesta. Later this evening enjoy a hosted dinner followed by some classic Latin music and dancing at a local venue.
B/L/D
Day 8
Travel day for getting to the airport to return home or continuing your trip in Baja.
B
---
B/L/D indicates meals included with trip cost.
*We are including a possible whale shark snorkel on these trips. When you snorkel with the whale sharks will be dictated by calm seas (possibly on the way to or from camp OR during the trip while on the island). Please keep in mind this activity is dictated by the forces of nature and not always predictable. The sharks need to be present and calm seas are necessary for snorkeling with them.
Although we do our best to adhere to the above itinerary, it is subject to change for reasons beyond our control including wildlife unpredictability, weather and port closures. Upon the chance the port is closed due to high winds and we can not get a group to the island on departure day we will provide a land based activity for this day.
Tour Calendar for Kayak, Cook, Dance (8 days)
Tour Dates
Description
Rate
Apr 25 - May 2, 2020
7 nights


The 1st four people to book receive a $200 discount off their final balance



$1095
Nov 7 - Nov 14, 2020
7 nights


The 1st four people to book receive a $200 discount off their final balance



$1095
What's Included
La Paz airport/hotel transfers, 3 nights hotel accommodations and 4 nights camping based on double occupancy, all meals as noted on the itinerary, purified drinking water with powder drink mixes and an evening cocktail while at camp. Community camp equipment including kayaks and associated equipment, tents, motorized skiffs, captains, guides, crew/cooks, dance and cooking lessons.
What's Not Included
Airfare, meals on travel days to and from Baja, beer or soft drinks (there will be an option to purchase these and we will provide coolers with ice for storing them at camp), personal gear such as sleeping bags, pads, pillow, snorkel gear, wet suits (available for rent in Baja) and guide gratuities.