Activities: Kayaking, snorkeling (including friendly sea lions), hiking and fishing. Great for families!
Begins in La Paz and ends in La Paz
Number of guides/crew: 2-6
Single supplement fee: $25 (crawl-in tent)
Single supplement fee: $125 (walk-in tent, limited to two per trip)
Approximate min/max distances per day: 2-6 miles
You May Also Like: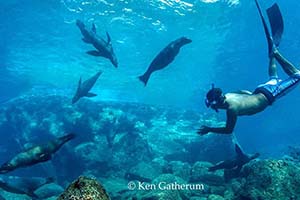 Activities: Sea kayaking, snorkeling, including whale sharks (weather permitting on January trips only) and sea lions, hiking, fishing and turtle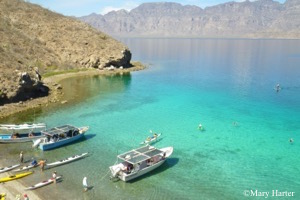 Special Offer Select Dates!
Activities: Kayaking, snorkeling (including friendly sea lions), hiking, fishing, visiting local fishing villages, whale watching (spring trips only). Duration: 9
Our Quick Getaways to Espiritu Santo Island (ESI) from late December through mid-March allow us to settle into our beautiful luxury base camp on a white sand beach adorned with turquoise waters and giant cactus. Without having to move camp daily we have plenty of time to explore volcanic cliffs by kayak, hike into canyons adorned with hanging fig trees and snorkel with friendly sea lions and tropical fish or try a hand at fishing each morning.
Enjoy comfortable "glamping" at our luxury camp which comes complete with large walk-in tents, cots, pads and pillows. Trips taking place in late January through mid-March can be combined with our Quick Getaway whale watching trips for the ultimate wildlife experience combining both of Baja's coasts.
Our flexible itinerary facilitates a variety of activities for a variety of interests from paddling and hiking to snorkeling and fishing. Motorized skiffs provide a safe and luxurious sea kayaking excursion. These skiffs allow us to participate in activities not possible if traveling by kayak alone. We can motor to snorkeling "hot spots" including a sea lion rookery where we snorkel among these graceful creatures enjoying their playful and curious nature first hand. Along the shores of ESI it's common to see manta rays and dolphins leaping from the sea's surface. During spring trips humpback whales frequent these waters and our skiffs enable us to move closer for remarkable encounters.
On our Espiritu Santo Quick Getaways you can explore distant islands and coastlines by kayak, hike among desert cactus, snorkel with sea lions and bring in fresh "catch of the day" prior to breakfast as well as relax on the beach and enjoy a good book.
Our Quick Getaways are short, economically budgeted trips that do not include hotel accommodations. If you would like to stay in La Paz before or after your trip, at our own beautiful hotel, The Posada LunaSol, we would be happy to arrange these accommodations for you.
Day 1
Meet at the Mar Y Aventuras office in La Paz at 10 am. Here you will meet your guides and pick up rental gear if any and PFD's. Transfer by boat to the beautiful Island of Espiritu Santo for a late lunch, kayak introduction and then sunset "happy hour" and dinner.
B (at our hotel if you stayed with us) /L/D
2, 3 and 4 if choosing the longer itineraries)
Day 2, 3 and 4 (depending on the length of trip you choose)
Explore Espiritu Santo Island while enjoying the comfort of our luxury base camp. Participate in our daily activities of sea kayaking, snorkeling (including with friendly sea lions), hiking and fishing.
B/L/D
3, 4 or 5 depending on the length of trip you choose
Day 3, 4 or 5 (depending on the length of trip you choose)
After breakfast at camp transfer by boat to La Paz arriving by late morning. This allows folks to transfer to their next destination in Baja or enjoy a relaxed afternoon in town.
B
---
B/L/D indicates meals included with trip cost.
Although we do our best to adhere to the above itinerary, it is subject to change for reasons beyond our control including weather and port closures. Upon the chance the port is closed and we can not get a group to the island on departure day we will provide a land based activity for this day.
Tour Calendar for Espiritu Santo Quick Getaway Luxury Camp (2-5 nights)
Tour Dates
Description
Rate
Feb 27 - Mar 1, 2018
2 nights

$595
Mar 1 - Mar 4, 2018
3 nights


THIS TOUR IS FULL.

FULL
Mar 4 - Mar 7, 2018
3 nights


THIS TOUR IS FULL.

FULL
Mar 7 - Mar 10, 2018
3 nights

$695
Mar 7 - Mar 12, 2018
5 nights

$995
Mar 12 - Mar 16, 2018
4 nights


THIS TOUR IS FULL.

FULL
What's Included
All meals from lunch day 1 through breakfast the last day of the trip, purified drinking water and an evening cocktail at camp, community camp equipment including kayaks and associated equipment, walk-in canvas tents with 2 cots, pads and pillows. Transportation to camps, national park fees and motorized skiffs, captains, guides and crew/cooks.
What's Not Included
Airfare, airport-hotel transfers, hotel accommodations, beer or soft drinks (there will be an option to purchase these and we will provide coolers with ice for storing them at camp), personal gear such as sleeping bags, snorkel gear and wet suits (available for rent in La Paz) and guide gratuities.