Moderately Strenuous
Physicality

Activities: Sea kayaking, snorkeling (including the friendly sea lions), hiking and fishing
Duration: 8 days, 7 nights: 5 nights camping, 2 nights hotel
Begins and Ends in La Paz
Number of guides/crew: 2-6
Minimum age: 8 – This is a generalization of age appropriateness for this trip, but please note we make exceptions depending upon your child's personal experience.
Single supplement fee: $100 hotel and tent, $25 for tent only and shared hotel
Approximate: min/max distances per day 5-12 miles.
Tour Map
You May Also Like:
Activities: Kayaking, snorkeling (including friendly sea lions), hiking and fishing. Great for families! Begins in La Paz and ends in La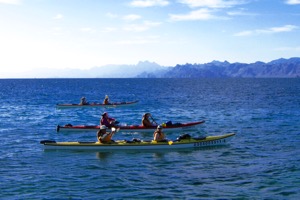 Special Offer Select Dates!
Activities: Kayaking, snorkeling, hiking, fishing, visiting local fishing villages, possible whale sightings on spring trips. Duration: 9 days, 8 nights: 6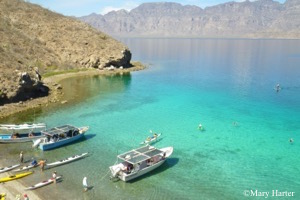 Special Offer Select Dates!
Activities: Kayaking, snorkeling (including friendly sea lions), hiking, fishing, visiting local fishing villages, whale watching (spring trips only). Duration: 9
Espiritu Santo Island is the quintessential paddling paradise! This extraordinary, desert island national park has over 20 white sand beaches with shallow bays of turquoise waters gently sloping toward giant cactus along the west coast and towering cliffs dropping into deep, blue waters along the east coast.
Kayaking and camping along the shores of this island paradise allow us the opportunity to explore ancient archeological sites, canyons adorned with hanging fig trees, freshwater wells, classic desert arroyos, prime fishing holes as well as snorkel among friendly sea lions and tropical fish. Weather permitting we'll attempt to paddle its unique east coast of sheer rock walls, caves and towering spires.
This is the perfect escape for the novice to advanced sea kayaker seeking some paddling combined with snorkeling, hiking and fishing. Our multi skiff-supported trips allow our professional guides some flexibility in providing each participant the level appropriate activity they desire in a flexible and relaxed environment. If you want a challenging day of paddling, we'll provide you with that experience. If you prefer to take a day off from paddling and want to snorkel, hike or hang at camp that can also be arranged!
We will camp on 2 to 4 beautiful white sand beaches, depending on the weather, while exploring this island paradise. Motorized, support skiffs are used to carry heavy equipment from camp to camp so your kayaks are light and easy to paddle. The motorized skiffs also come in handy to pick up tired paddlers (we throw your kayak on a top rack). We also use the skiffs to take folks out for opportunistic whale watching in the spring months when a whale blow is sighted in the distance or for transport to snorkeling and fishing "hot spots".
There is no other island in the Sea of Cortez like Espiritu Santo! If you love to camp at the water's edge, paddle, snorkel and/or hike and fish while enjoying a spectacularly scenic national park with abundant wildlife, this truly is your dream vacation!
Day 1
Arrive in La Paz, Baja California Sur, Mexico. Evening on your own to explore La Paz and dine at one of its many fine restaurants.
Day 2
Breakfast at hotel. Pick up rental gear and transfer by boat to the island of Espiritu Santo (approximately 2 hours). Lunch upon arrival at camp. During lunch we will give a camp orientation followed by sea kayak instruction and paddling.
B/L/D
Day 3-6
Guided kayak, snorkel and hiking excursions are offered daily as our guides and crew choose the best activities each day in accordance with your desires, abilities and the weather. We'll move camp most days over-nighting on a variety of beaches with one or two layovers depending upon the winds. Other guided activities from the various camps include hiking, fishing in the mornings and skiff excursions to nearby snorkeling "hot spots" including a sea lion rookery where we join these graceful creatures, swimming alongside them while enjoying their playful and curious nature first hand.
B/L/D
Day 7
After lunch we transfer back to La Paz by motorized boat, check into the hotel where you can enjoy a hot shower and have time to take a walk into downtown La Paz or an afternoon siesta before meeting for the farewell dinner that evening.
B/L/D
Day 8
Travel day for getting to the airport to return home or continuing your trip in Baja.
---
B/L/D indicates meals included with trip cost.
Although we do our best to adhere to the above itinerary, it is subject to change for reasons beyond our control including weather.
| | | |
| --- | --- | --- |
| | October 2017 | |
| DATES | TRIP | RATE |
| 21 - 28 | | $1,195.00 |
| 29 - Nov 5 | | $1,195.00 |
| | November 2017 | |
| DATES | TRIP | RATE |
| 4 - 11 | | $1,195.00 |
| 12 - 19 | | $1,195.00 |
| 18 - 25 | | $1,195.00 |
| 26 - Dec 3 | | $1,195.00 |
What's Included
La Paz airport/hotel transfers, 2 nights hotel accommodation based on double occupancy, all meals from breakfast day 2 through a farewell dinner in town the last evening of the trip, purified drinking water with powder drink mixes and an evening cocktail. Community camp equipment including kayaks and associated equipment, tents, motorized skiffs, captains, guides and crew/cooks.
What's Not Included
Airfare, meals on travel days to and from Baja, beer or soft drinks (there will be an option to purchase these and we will provide coolers with ice for storing them at camp), personal gear such as sleeping bags, pads, snorkel gear and wet suits (available for rent in Baja) and guide gratuities.